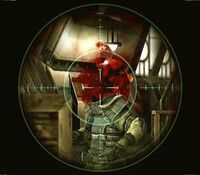 Sniping is the act of using a Sniper Rifle to kill enemies from far distances. It is commonly done to avoid a direct gunfight, or to shoot people at higher areas.
Sniping is a very basic trick. To do it, get a sniper rifle. Then, push the scope button, and aim at a target. Crouching prevents Nick's breathing from interfering with the aim. Then, just shoot at the target. Sniping often involves Head Shots.
Weaknesses
Edit
While sniping, Nick is still vulnerable to other attacks, or being shot at by the target.
It is often considered difficult to get a good aim. Especially on a moving target.
Sniper Rifles hold little ammunition, so there aren't many tries.
After the first shot is fired, all enemies in the area will know there is a sniper.